Los jóvenes son hombres y mujeres de 18 a 35 años de edad que representan experiencias diversas en cuanto a cultura, raza, etnia, educación, vocación, política y espiritualidad. El Ministerio de Jóvenes desea acompañarte en tu camino de fe.
Visita Nuestra Página de Facebook
Reunión Mensual
El ministerio diocesano de adultos jóvenes organiza reuniones y eventos con jóvenes de diferentes parroquias. Acompáñanos a nuestras reuniones donde tenemos temas de interés, oración, dinámicas, convivio, alabanza y mucho más.
Síguenos en Facebook @jovenescatolicosut para que estés al tanto de lo que pasa con los jóvenes católicos en Utah.
Misión Semana Santa – "Tengo Sed"

Todavía puedes ser parte de la misión. ¡Lánzate!
1. Ayúdanos a colectar ropa y artículos para jóvenes sin hogar. Por favor mantén tus donaciones
compatibles con la siguiente lista. Puedes enviar o traer tus donaciones antes de abril 15,
al Centro Pastoral Diocesano (Oficina de Ministerio Juvenil) –
27 C Street, Salt Lake City, de lunes a viernes de 9 a.m. – 4:30 p.m.
2. Miércoles Santo (abril 17) – Los jóvenes (18+) son bienvenidos a empacar, y acomodar ropa y artículos y preparar bolistas de regalo destinados al centro juvenil.
También tendremos una Noche de Oración dedicada a los jóvenes sin hogar.
Centro Pastoral Diocesano, de 11:00 a.m. - 8:00 p.m.
3. NOTA: ¡El cupo para servir el sábado santo (abril 20) ya se ha agotado!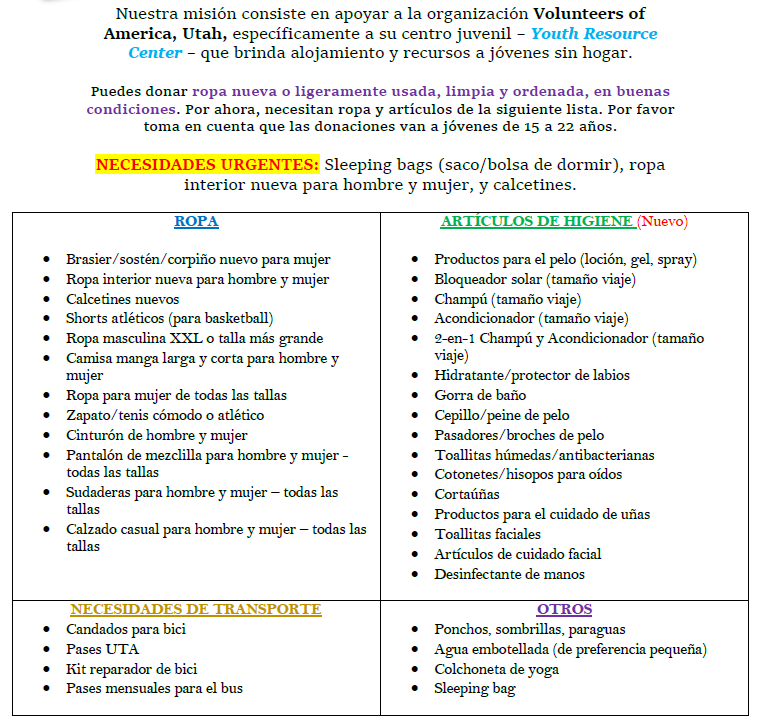 Young Adult Lent and Holy Week Mission - "I thirst!"
Join young adults (20s & 30s) from around the diocese in this unique Lenten project.
Our mission consists of supporting Volunteers of America, Utah. An organization that shelters
homeless youth and provides resources through their Youth Resource Center.
Here's how you can serve!
1. Throughout Lent – We need your help in collecting clothes, hygiene essentials,
and other items. Donated items can be dropped off or delivered by April 15
to the Diocesan Pastoral Center, Office of Youth & Young Adult Ministry –
27 C Street, Salt Lake City; Monday through Friday, from 9 a.m. to 4:30 p.m.
2. Holy Wednesday (April 17) – Young adults are invited to help pack and arrange clothes,
and all collected items. We'll prepare Easter bags, and have a Prayer Service
remembering all homeless youth. Diocesan Pastoral Center, from 11 a.m. to 8 p.m.
3. Please Note: Space is full! We don't have any spots open to serve on Holy Saturday.