We welcome all youth ministers!
We hope this site contains valuable information and resources to assist you and your parish in providing the highest quality youth ministry program.
Youth ministry is more than simply keeping youth busy or out of trouble, it's purpose is to invite and integrate youth into the total life and mission of the church. This is accomplished by establishing a comprehensive youth ministry program that includes 8 dynamic and interrelated components: Advocacy, Catechesis, Community Life, Evangelization, Justice and Service, Leadership Development, Pastoral Care, and Prayer and Worship. These are detailed in the USCCB document Renewing the Vision: A Framework for Catholic Youth Ministry.
Goals of Comprehensive Youth Ministry
To empower young people to live as disciples of Jesus Christ in our world today. To draw young people to responsible participation in the life, mission, and work of the Catholic faith community. To foster the total personal and spiritual growth of each young person.
As a youth minister, you are called to be a guide for the youth in your program, offering them multiple and various ways to embrace and grow in the Catholic faith.
Stay Connected! Follow us on social media.
Diocesan Youth Ministry Official Facebook Page

Instagram: @YouthMin Diocese of SLC
UPCOMING DIOCESAN EVENTS
APRIL - Abril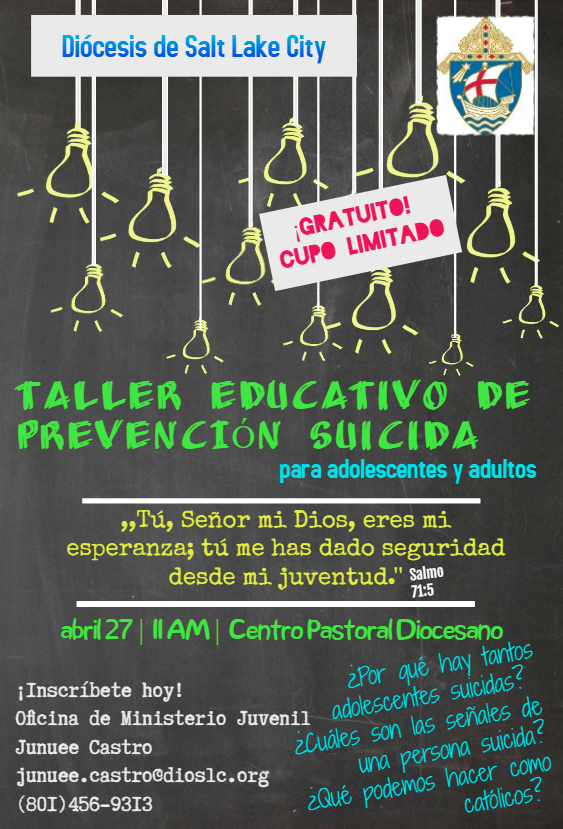 Taller Educativo de Prevención Suicida
Atención: Padres, catequistas, coordinadores juveniles, líderes de ministerio, acompáñanos a este taller de prevención y conocimiento del suicidio.
Eduquémonos en los factores de riesgo, señales de advertencia, estadísticas y, sobre todo, la importancia de la fe y la enseñanza católica acerca del tema.
Tendremos:
Sesión de adultos en español
Sesión de adolescentes en inglés (13-17 años)
Recursos, oración, reflexión y refrigerio
Por favor, ¡NO niños! CUPO LIMITADO, inscríbete antes de abril 15 en línea, o llamando a la Oficina de Ministerio Juvenil al 801-456-9313.
Youth Suicide Awareness & Prevention Workshop
Calling All: Youth, parents, ministry leaders, and catechists!
Join us for a day of dialogue and reflection.
The workshop will include information on statistics, warning signs and risk factors, and how you have a role in preventing suicide.
This includes:
Spanish session for adults
English session for teens (13-17 yrs.)
Prayer, resources, and refreshments
Space is limited. Register today!
MAY - Mayo
Youth's Evening of Praise & Adoration
Together, let us "express spontaneously our delight in God and the rejoicing in our hearts.
We praise God because he exists and because he is good." – YouCat, 489
Guest Speaker: Rev. Joshua Santos
Parochial Vicar, St. Ambrose Parish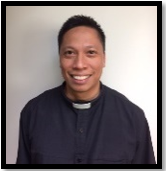 Music By:
Youth for Christ, a Couples for Christ Ministry
Los Angeles, CA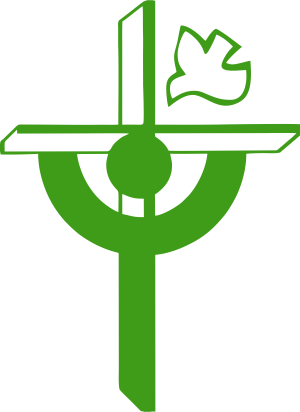 Catholic Relief Services (CRS) Rice Bowl –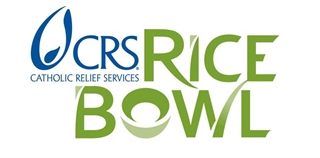 What is CRS Rice Bowl?
CRS Rice Bowl is Catholic Relief Services' Lenten program for families and faith communities in the United States who want to put their faith into action. Through CRS Rice Bowl, participants are invited to hear stories about their brothers and sisters in need around the world and devote their Lenten prayers, fasting, and alms to change the lives of those who suffer in poverty.
2019 CRS Rice Bowl Overview
Check out this video! CRS Rice Bowl Helps Your Local Community
Where can I get a CRS Rice Bowl?
Check with your parish or Catholic school to find out when CRS Rice Bowls will be distributed.
Download the App! The CRS Rice Bowl App puts Lent in your pocket with daily reflections, meatless meal recipes and more. The app is available for both Android and Apple devices. Learn more about CRS Rice Bowl! Visit www.crsricebowl.org