Statement from Bishop Oscar A. Solis on the Vandalism at Chabad Lubavitch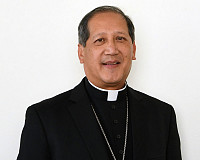 For people of faith, the past week has been a difficult one. As tensions rise between Israel and Palestine, fear and hatred spill over across the globe. Vandalism at Chabad Lubavitch in Utah is a stark reminder of how easily we can slip into violence and division. But we are ultimately people of hope, charity and love. In the face of hatred, we offer our support and solidarity to our Jewish friends and neighbors.
I urge all Utahns to treat one another with mutual respect and understanding. Seeing and upholding the dignity of every human life is the first step to ensuring peace in any nation. Here in Utah, we must be examples of God's love for his creation. Let us see each other and show our love for our neighbors, so that we might live in God's peace and share His great grace.
Around the Diocese
The latest information and happenings from around the diocese.